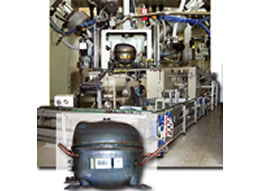 Hermetic compressors for household refrigeration (refrigerators, air conditioners, freezers) and also for heat pumps are produced on high-speed automatic lines. The products to be tested are transferred on pallets by means of rapid conveyors or carriers, and the testing machines include totally automatic chambers, both for the testing process and for unit handling.
Inside the test chamber, the compressor is blocked in position, and then dedicated equipment is used to capture the tubes and sealed items in order to ensure the seal necessary for the test. Through these connections, effected in this manner, the compressor is pressurized with the test gas, while the chamber (also automatically closed) is pumped under vacuum conditions for connection to the mass spectrometer capable of detecting and quantifying the leak.
Test chambers for hermetic compressors.
Testing machine for hermetic compressors, characterised by a manual workstation for hermetic sealing of the tubes, given the wide variety of products (footprint dimensions, position, number and typology of tubes to be processed).
Semi-automatic machine for testing casing (box) following welding of tubes and of the hermetic feed-though of the electric terminals.