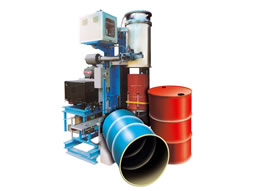 The fact that, for a number of companies operating in the chemicals sector, it is required that they supply 200-litre metal drums with leaktest guarantee has led to the development of special on-line helium leaktesting machines.
The testing machine is totally automatic and handling is synchronized with the test installation. The machine is therefore extremely compact and can be readily installed as part of the production process, quite simply by interrupting the conveyor belt.
Each chamber can test up to 360 drums/hour. This latest generation of machines enables processing of open drums (fully opened) and closed drums (partly opened).
A number of mechanical components are leaktested following specific processing work. The illustration is provided of testing of very thick stainless steel sheet components produced for pressing and hydroforming under high pressure.