According to the Boyle-Mariotte law, when the volume of a gas diminishes (e.g. due to the action of a piston), pressure increases equally, if the temperature remains the same. Thus, the product of pressure and volume is equal to a constant: pV=const. and T=const.

According to Charles' law, if a pressure is maintained constant, the volume of the gas increases as the temperature rises: V=V0 (1+atT) and p=const.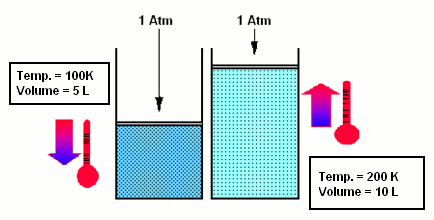 According to Gay-Lussac's law of volumes, if the volume remains constant, the pressure increases as the temperature increases, in accordance with a linear relation. The relation between pressure variation and temperature variation is equal to a constant: p=p0 (1+btT) and V=const.